Hello!
In this post I am going to write about a video tutorial I did on this exquisite Star Stitch dish cloth. This was my very first time doing this stitch and what fun!! I want to do everything with this texture now! (If you do not like this stitch fear not, I will mix it up ? )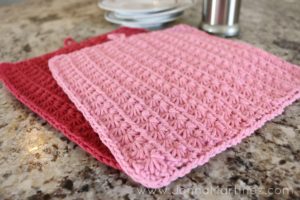 Disclaimer: I use affiliate links. Which means that if you click on one of the product links I will receive a small commission at no extra cost to you. Thank you for supporting this Blog and YouTube channel!
This lovely pattern is only two repeating rows and is provided by one of my favorite companies (not sponsored, but open to offers ? ) DROPS DESIGN. They have a wide variety of patterns to choose from. The Star Stitch Dish cloth is ??? 
If you have never tried this stitch don't let it worry you, I will admit I have steered clear of this stitch for this long because it really looks hard! My tutorial is HERE so let me know what you think.
I used 100% cotton worsted weight yarn for both of my dishcloths.
Peaches and creme and Sugar and creme. (same cotton, different labels by the way)
I used a 4.00mm crochet hook. My dishcloths came out 9.5 inches by 9.5 inches.
Scissors, and a yarn needle are good to have for this project too.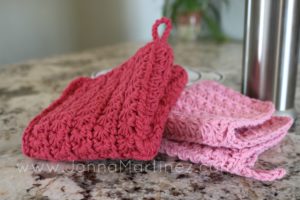 Thank you for the visit! Make sure to watch the VIDEO! 
Have a lovely crochet day,
Jonna
P.S. Isn't this soap dispenser great?! It was a gift from my father. Very useful for any kitchen.