Crochet Baby Socks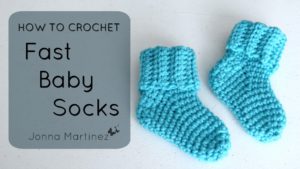 These cute and easy baby socks are super fast to work up! Make a pair the morning before a baby shower and you have the perfect gift to give.
Watch my video tutorial HERE
Disclaimer: I use affiliate links. Which means that if you click on one of the product links and make a purchase, I will receive a small commission at no extra cost to you. Thank you for supporting this Blog and YouTube channel!
Video and post info based on pattern Designed by Diane McKee provided By Red Heart Yarns.
So now a thing about this pattern, I did the gauge using a similar yarn and the same hook as red heart suggests and the gauge was WAY bigger than 4×4″.
Hook sugested:
I 5.5mm Hook
Here's the Yarn suggested:
and Gauge pattern:
16 Stitches = 4″
14 Rounds = 4″
Single crochet stitches.
So following the gauge I found that using Red Heart super saver and an F 3.75mm hook came out right. and I was happy with the socks. Below is  my first pair using the color Corn.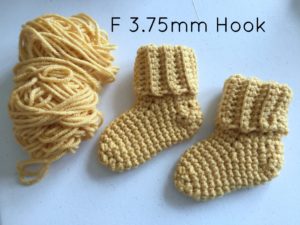 Here is the same hook using a variegated blue and brown: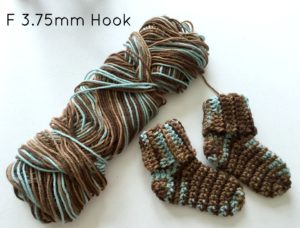 They turned out basically the same size. Foot length at 3 & 7/8th
According to my sources this will fit babies from 3-6 months.  Now this next pair in order to get the yarn and to give the right gauge I used an I 5.25 mm Hook.
This is Red Heart Unforgettable in Petunia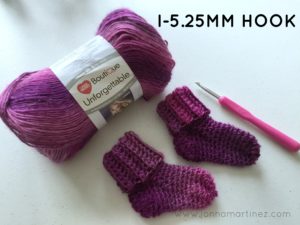 Same size as the other socks except I like them more! They are softer and lighter.
Experiment! Check your gauge and have fun making baby socks!
Pattern I used for my gauge:
Ch 17
Row 1. sc in second ch from hook, and into each ch. ch 1 turn (16 sc)
Row 2-14 sc into each st, ch 1 turn (16 sc)
Thank you for the visit and make sure to watch my Video!
Have a lovely crochet day,
Jonna Martinez